Yeah okay, this isn't about language. But communication, loosely?
I recently played a bit of Cosmic Spacehead, an old Mega Drive game, via the RetroPie. It's a somewhat rare combination of platform and point-and-click adventure. Bing! goes my nostalgia-meter.
While I was happily playing, something struck me. If I left Cosmic for a few seconds – I mean, literally, count one, then two – he would yawn. This is quite irritating. I guess it makes sense in the faster paced platform levels (which 'sew' together the main adventure) – but surely the nature of a point-and-click requires a fair bit of stopping and thinking? Give me a sec, dude!
Anyway, this led me to think about different idle animations in videogames, and which ones are my favourites.
Fifth place: Sonic the Hedgehog – impatiently waiting for you
I couldn't write this without mention Sonic's signature foot-tapping. His sardonic expression with furrowed eyebrows really adds to it. And this makes so much sense for Sonic, who would probably atrophy if he stood still for longer than half a second (or, you know, get shot by a bee bot). Classic retro idleness.

Fourth place: Crash Bandicoot – splat 'n' shake
A detailed character like Crash lends itself well to idle states. There's variation in this one, too, which puts it above Sonic. Crash might just look from side to side, or he'll scratch his head, play with a yo-yo, tremble in the cold – or pick up a fruit, throw it in the air, watch it land on his face, and spin to get rid of it. Bravo.
(excuse the shoddy footage – Youtube couldn't help me here)
Third place: Ristar – I'm so cute
This little dude has a different idle animation for each level, so extra marks for that. The best one has to be the snow level, where he builds a tiny snowman and beams with delight. I mean, look at the detail in that.
Interestingly, according to the wiki page, most of Ristar's idle animations were removed for Western versions.
Second place: Earthworm Jim – not to be left to his own devices
Earthworm Jim boasts a variety of eight different idle states – and who couldn't be impressed when he removes his head and uses it as a skipping rope? That's imagination. Imagine being in the board meeting about that. I also snigger when he shoots himself in the face.
First place: Commander Keen – shout when you're ready
This has got to be my all-time favourite, and is the first one I thought of for this article. It starts off fairly innocuous – Keen looks at his watch, puts his hands on his hips and shrugs. Then he gets so fed up that he sits down and starts reading a book, turning a page every few seconds. That's just piss-taking at its best. The ultimate narky reproach for your procrastinating hands!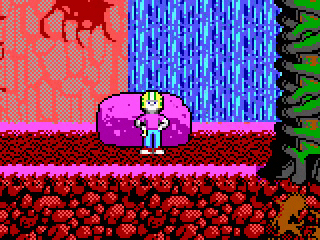 And then there's the Easter egg in Commander Keen 4, which I only found out about recently. In the Pyramid of the Moons, leave Keen standing still on the moon carving and he'll pull down his pants and show you his butt. Mooning on the moon, geddit? Apparently he only does it once, which might be why I'd never noticed that as a kid.
Resources
https://en.wikipedia.org/wiki/Idle_animations
http://crashbandicoot.wikia.com/wiki/Idle_stance
http://ristar.wikia.com/wiki/Ristar